Perforation Knives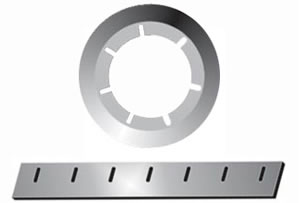 Perforation Knives
Applications of Perforation Knives:
Perforation knives mainly used in the manufacturing process of pressure sensitive paper and self adhesive labels. Henglida perforation blades processed paper products are easy to be split up and have even and smooth cut.
Types of Perforation Knives:
Perforation knives are available in different sizes and shapes, for example circular knives and straight knives are both available here.
Circular perforation knives are usually cut into two parts for more convenient installation. And our straight perforation knives, which are processed by electric spark equipment, can be easily and conveniently connected with each other. Our straight blades are suitable for perforating on paper products with a length of 4m.
Materials:
Machine knives made of tool steel, D2 and high speed steel knives are all available.